It's that time of year again! Time to enjoy the last of the nice weather and set off around Lethbridge to tour some of the most amazing homes you'll ever see! Avonlea Homes has a total of 7 Homes to Tour for this years Parade of Homes, including of of this years College Home Projects.
We've also got the Grand Opening of BlackWolf Phase3 -- the only community to offer homes next to the future 73 Acre North Regional Park! Our College Home is located here, along with two more stunning show homes to tour!
We've also got a beautiful Braxton II model with some gorgeous coulee views over in Legacy Ridge. Our Edison show home down in SunRidge Landing to visit as well. And let's not forget our two Skye Show Suites over in West Highlands to see, if you've not had a chance to get out there yet!
To help you in your travels for the next couple of weeks, we've put together a handy Show Home Map to get you around town with ease. Click on the image for the PDF version you can download, save and then print out to take with you!
Parade of Homes Locations Map: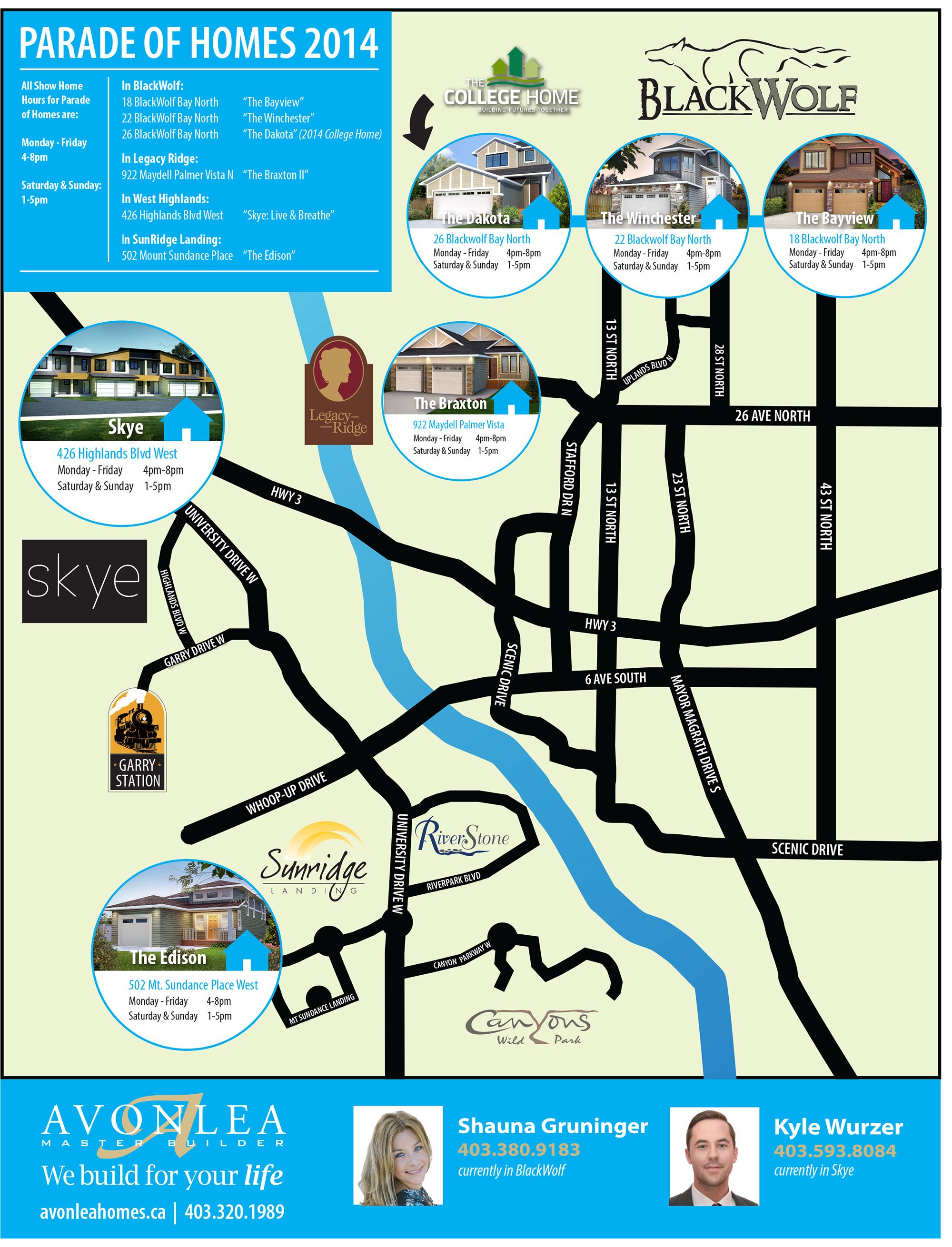 Parade of Homes Dates & Times:
Parade of Homes starts this Saturday, September 13th and goes until September 28th. The Show Home hours during this time will be Monday - Friday from 4-8pm and Weekends from 1-5pm. Hopefully you have enough time to get out and see them all!
Parade of Homes Special Pricing:
Don't forget to check out our Limited Time Only Parade of Homes Special Pricing. We've dropped prices on 20 homes around Lethbridge in Paradise Canyon, Country Meadows, BlackWolf, Sunridge Landing and Garry Station --- only until September 28th! Click below to view all the homes available in the promotion: